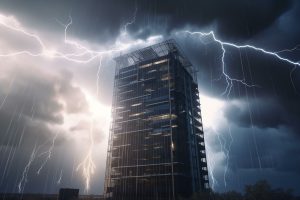 As the 2023 hurricane season draws near, it's time to prepare your industrial and construction elevators for potential storm conditions. The preservation of your elevators in severe weather is a critical safety and operational consideration. Here are several key factors to keep in mind when preparing your rack and pinion elevators for hurricane conditions.
Understanding Flood Levels
One of the first things to consider is whether the elevator is located within a floodplain or is subject to potential flooding during a hurricane. At McDonough, we recommend elevators be positioned above anticipated flood levels to avoid damage from rising waters. Usually, the second level suffices as a safe location. However, don't position the elevator higher than necessary as it can be exposed to high wind loads, which could pose a risk to its stability.
Disconnecting Power
Once you've determined the best location to "park" the elevator during a storm, disconnect its power supply. This ensures that the elevator won't be used during adverse conditions, preventing unnecessary risks. Moreover, by disconnecting the power, you ensure that the elevator will not be returned to operation until a comprehensive post-storm inspection has been conducted.
Securing the Elevator
As part of your hurricane preparation, make sure your elevator is properly secured. Any loose parts or sections can be a potential hazard during high winds. Follow the manufacturer's guidelines for securing the elevator during extreme weather conditions. If you're unsure about this process, consult with an elevator professional.
Post-Storm Inspection and Maintenance
After the storm has passed, refrain from immediately restarting the elevator. A thorough inspection must be conducted by a certified technician to ensure all components are intact and in good working order. Remember, the elevator should not be used until this safety check has been completed.
McDonough's Commitment
At McDonough, our commitment to safety goes beyond delivering reliable vertical access solutions. We're dedicated to helping our customers prepare for and navigate through challenging weather conditions like hurricane season. If you're unsure about how to prepare your elevator for the upcoming hurricane season, reach out to our experienced team. We'll guide you through the process to ensure your elevator remains safe and operational.
Stay safe this hurricane season. Remember, at McDonough, we're not just a company, we're a team working towards one goal – to deliver exceptional service and ensure the safety of our customers. Let's weather the storm together, as ONE McDonough.