Commercial Elevator Rentals
At McDonough, our rental fleet includes temporary elevators and hoists, with a variety of sizes and capacities to meet your job specific needs. Our turnkey rental services include installation, dismantle, operator training, on-site standby technicians, and preventative maintenance.
Whether you call it a construction elevator or a buck hoist, we have a solution for you. Visit our Construction Hoists page to learn more about our rental offering.
WE UNDERSTAND THE VALUE OF SAFETY AND TIME ON YOUR JOB SITE.
Our hands-on sales managers will visit your jobsite to discuss the best solution for your project.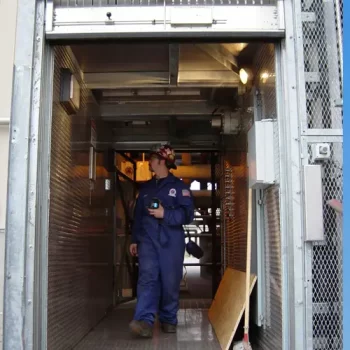 Safety
Our service technicians are required to complete both OSHA 30 safety training and McDonough's Injury and Illness Prevention Program (IIPP) upon hire. Our team also participates in additional safety training on a monthly basis to ensure they remain up to date on the most current safety protocols. We have a deep and long-standing safety culture that promotes our team members being safety leaders on your job site. 
Equipment Reliability
Unreliable equipment can adversely affect productivity on your project. That's why hoist reliability is essential for you to meet your project schedule. At McDonough, we have achieved the highest standard for equipment make-ready in the construction industry. Our extensive and detailed make-ready checklist includes over 100 items to ensure that our equipment is reliable, safe, and ready to perform when it arrives on your job site. 
Service
A reliably functioning piece of equipment is essential to keeping your project on schedule.  That is precisely why we prioritize service at McDonough. Our service centers are strategically positioned in Anaheim, Atlanta, Baltimore, Houston, and Tampa so that we can service projects across the United States. We pride ourselves on our quick response times and the quality of our service.
The chart below shows the lifting capacity, car dimensions, and lifting speed for industrial elevators. Customized capacities, car speeds, and features for construction hoists are available.