Construction Hoist Rentals
Whether you call it construction hoist, construction lift, buck hoist, or temporary elevator, McDonough has the equipment to meet your project needs.
Our rental fleet is comprised of Stros and Champion brand construction hoists, including a variety of sizes and capacities for both commercial and industrial applications. We offer turnkey rental services including construction hoist rental installation, dismantle, operator training, and preventative maintenance.
McDONOUGH HAS A SOLUTION FOR YOUR PROJECT.
OUR HANDS-ON SALES MANAGERS WILL VISIT YOUR JOBSITE TO DISCUSS THE BEST SOLUTION FOR YOUR PROJECT.
As a leading construction hoist rental company, we can also provide daily on-site standby technicians and trained hoist operators to run the hoist. McDonough trained operators ensure the hoist is utilized efficiently to help maintain maximum productivity and safe operation. Our operators are trained to troubleshoot simple maintenance issues in order to minimize unnecessary downtime.

For more information regarding our construction hoist rental solutions, contact us today.
The chart below shows the lifting capacity, car dimensions, and lifting speed for industrial elevators. Customized capacities, car speeds, and features for construction hoists are available.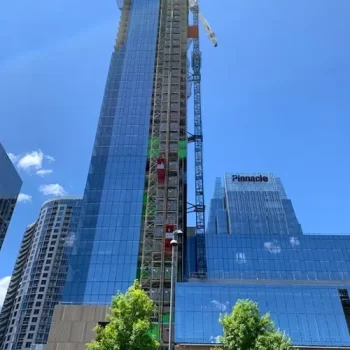 McDonough offers personnel/material construction hoist rentals for commercial applications including new construction and building renovations.
McDonough offers construction hoist rentals for a variety of industrial applications including plant turnarounds, outages, and new plant construction.